What qualifies as a custom merch project? For Big Bang so much of what we do tends to be custom. If we looked at every project with a different client logo/brand, then perhaps all orders are custom…but are they really? For us, custom means working with our suppliers to manufacture something from scratch.
We recently completed a project for the Atlantic Canada Scout Jamboree which was going to be held in Nova Scotia this year. Unfortunately, this event had to be cancelled due to COVID-19, however, with some funds already spent, the team was looking to do a fundraiser of custom merch to recover costs. This project consisted of a custom t-shirt print designed by Big Bang, together with custom crests and a custom neckerchief. We worked with the client on a package that would provide members with a keepsake/collectable recognizing the planned event.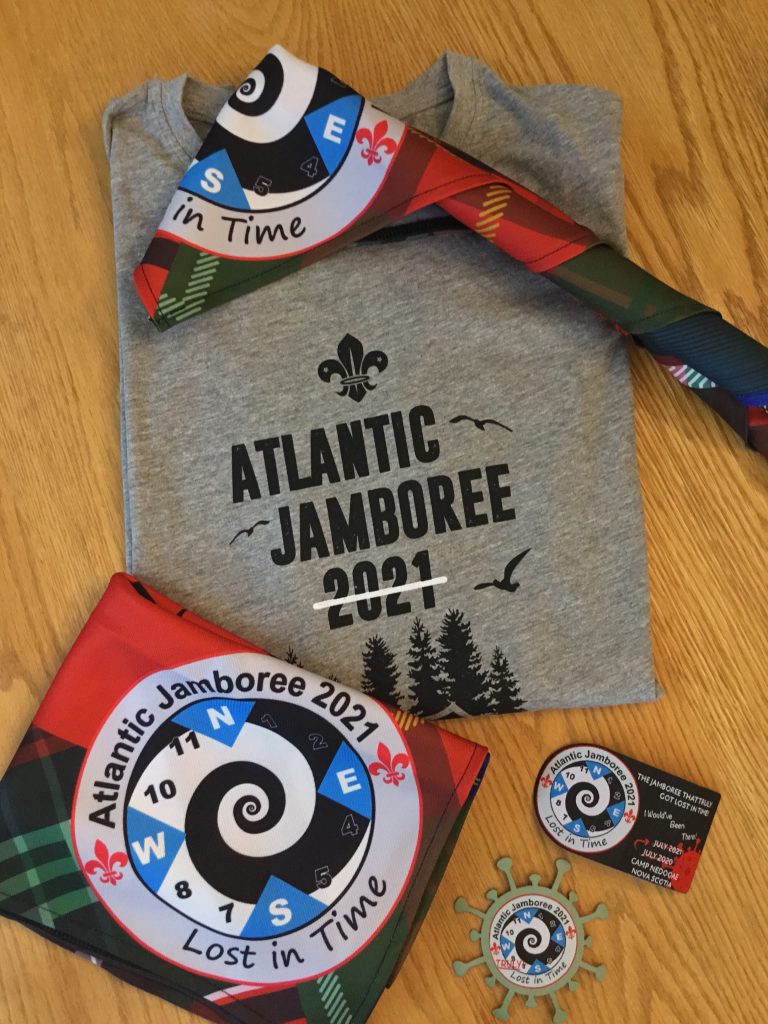 Custom Merch Boxes
Our Bang Boxes are definitely custom. Uniquely designed, filled with a variety of items relating to the theme/event/product launch. Custom merch boxes are a great way to promote your brand, and can be used in a variety of ways including, a new employee gift box, or a marketing campaign to engage with customers. Our two most recent custom swag boxes met the objectives set out by the client:
Bynx Coffee-Music-Books of Orlando, Florida, recently opened their new coffee storefront. To celebrate the event, custom Bang Boxes were distributed to family and friends throughout North America. The box included apparel, printed postcards, drinkware, custom key chains and popsockets. All designed and selected to highlight the opening of the store, best reflecting their brand and market concept.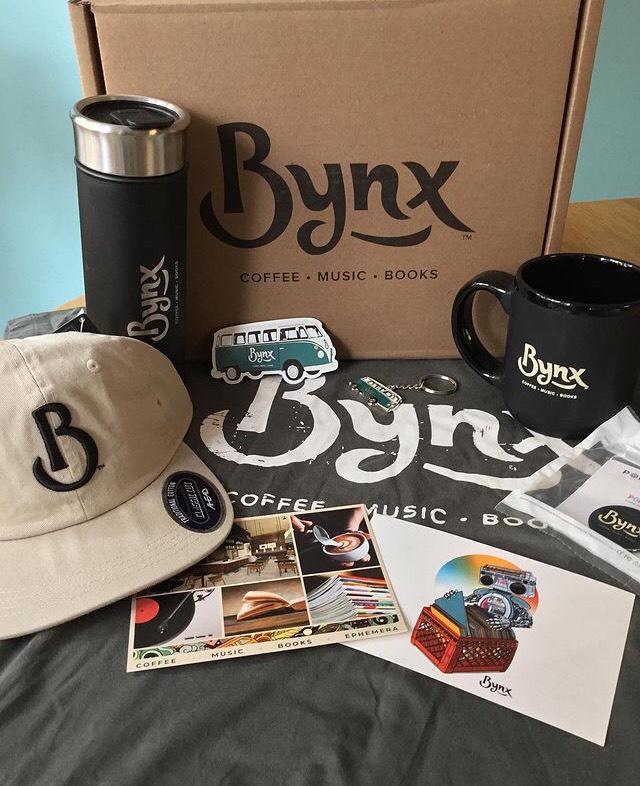 For William McBay of T.E.A.M. Financial of Waterloo, Ontario, his swag box project was the launch of his new book, Myths and Truths. Working with the Big Bang Team, Bill wanted his custom swag box to tie in with a fundraising event for the Heart and Stroke Foundation. Along with his book, the box also included several wine-themed items (wine tumbler, corkscrew, bottle stopper) as well as dark chocolate in custom packaging and custom bookmarks. The branding theme was based on the cover of the book, with the box and all included items following that design. The results were stunning!
Successful Projects!
For the above projects, while certain elements were custom from scratch, the vast majority were great products that we recommended from our list of trusted suppliers. Finding the right coffee mug or wine tumbler, and having it decorated by the supplier located in North America; working with our premiere chocolate supplier by supplying the artwork necessary to tie into the theme…but the chocolate is always in stock and ready to ship. Apparel can be decorated in a variety of ways to bring your brand/theme to life.
For your next "custom" project, ask us how we can provide a solution for engaging with your clients, employees, or potential new clients! https://www.bigbangpromos.com/contact-us/